Ohitashi is a traditional Japanese dish that has been eaten for over 1000 years. You can take in the nutritional benefits of the vegetables along with the dashi broth and soy sauce without sacrificing their natural flavor.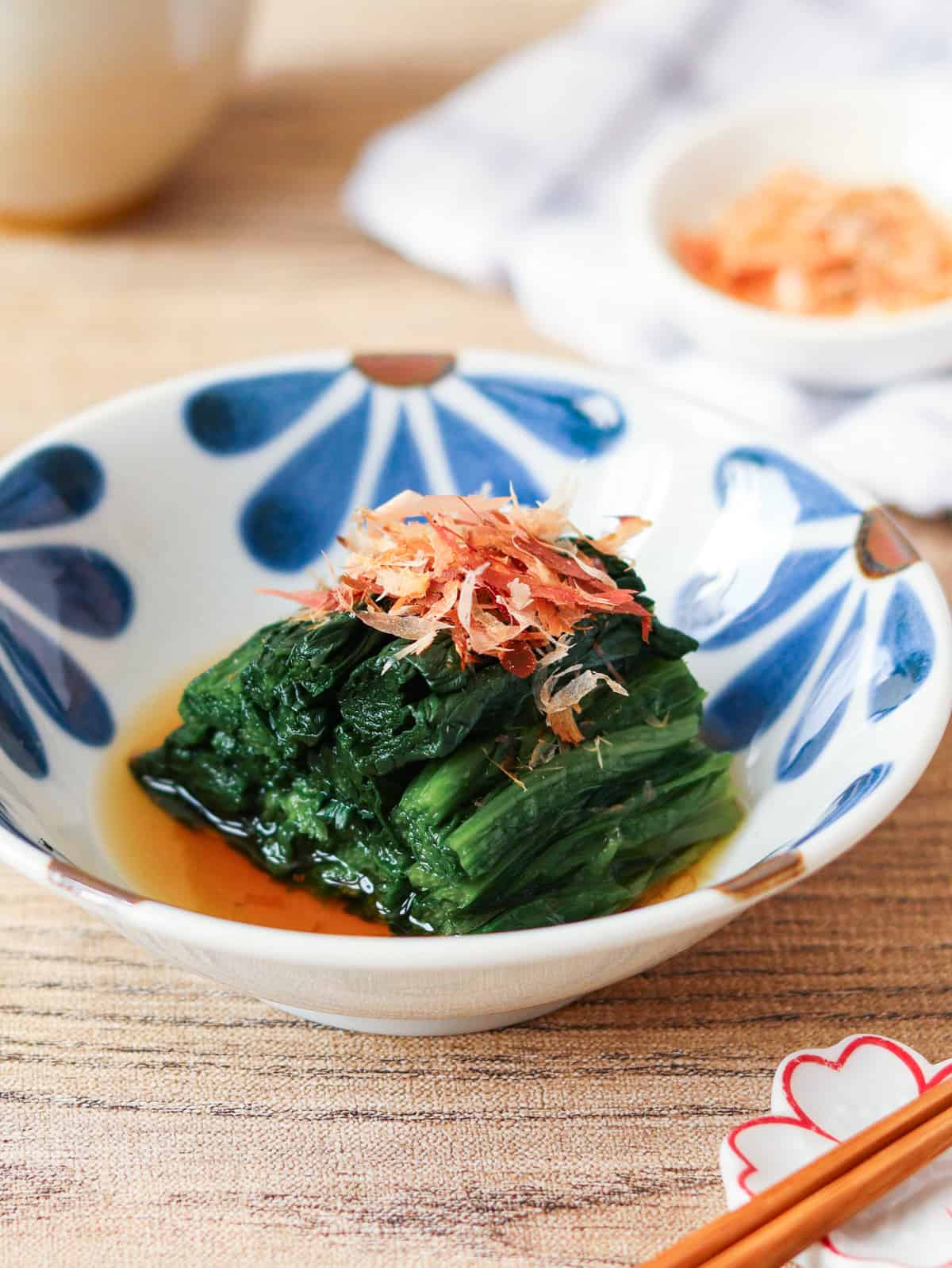 It is a suitable dish when you want to add vegetables to your menu, as it can be easily prepared with a few ingredients. Try to recreate this Japanese dish on your table!
Jump to:
What is Ohitashi?
Ohitashi is a traditional Japanese dish made by soaking boiled vegetables in a flavorful mixture consisting of mainly dashi broth and soy sauce. Ohitashi is a polite way of saying hitashi or hitashi mono, which means to soak. As the name suggests, you can make it simply by soaking boiled vegetables in the seasoning.
It can be eaten immediately after cooking, but it tastes even better if you let the flavors soak in the refrigerator for 30 minutes to 1 hour. It is one of the most classic side dishes in Japan.
Vegetables to be used
Spinach and komatsuna (Japanese mustard spinach) are the most common vegetables used in ohitashi, but many other vegetables can also be used such as green pepper, nanohana (rape blossoms), tomatoes, okra, mizuna (Japanese mustard greens), broccoli. To add some texture, mushrooms or fried tofu may be included together.
Unless they are hard to penetrate the flavor like daikon radish or carrots, they are suitable for ohitashi, so try using vegetables that are available in your neighborhood.
Differences from nibitashi and agebitashi
There are two dishes similar to ohitashi: nibitashi and agebitashi. The differences are as follows.
Ohitashi: Boiled vegetables drained and soaked in seasoned dashi broth
Nibitashi: Vegetables or fish simmered in seasoned dashi broth for a short time.
Agebitashi: Deep-fried vegetables or fish simmered in seasoned dashi broth for a short time.
Although nibitashi and agebitashi are broadly classified into the group of ohitashi, they are generally recognized as different dishes because the cooking method itself is different, as described above. All of them are basic Japanese dishes and have different tastes, so make them and compare the flavors with your tongue.
To learn more about "Nibitashi."
Tips on how to make
Boil spinach in plenty of salted water. The purpose for boiling in plenty of water is to remove the scum from the spinach. Salt is added to prevent the color of the spinach from fading.
Spinach should be boiled from the stems first. Then boil the leaves to ensure even cooking.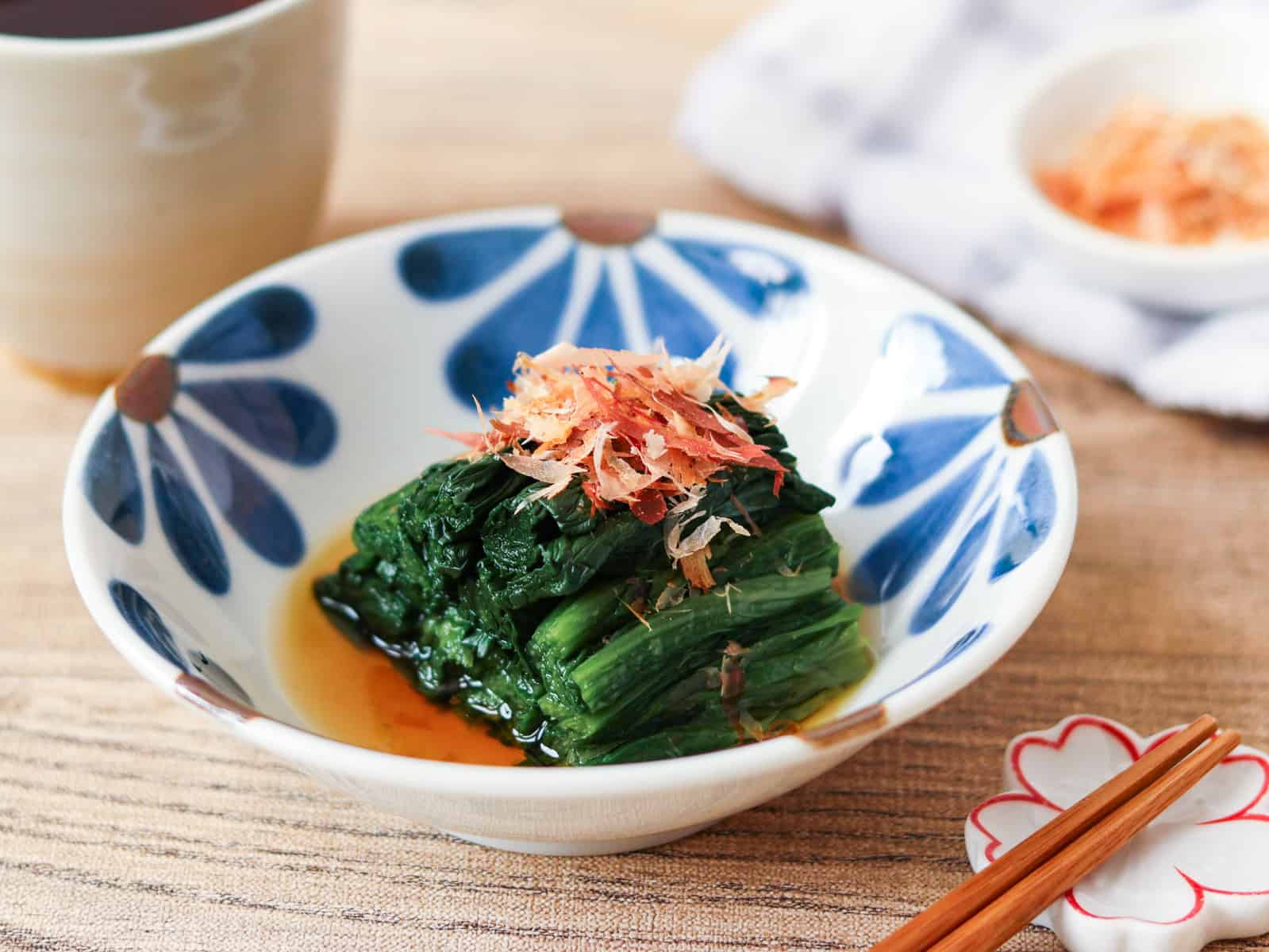 Ingredients
---
Step-by-step instructions
Step 1
Fill a pot with plenty of water and bring to a boil. Wash the spinach.
---
Step 2
When the water comes to a boil, add salt (about 1% of water, not included in recipe), and put the spinach in from the root end. Keep boiling only the stems for 30 seconds. Then, submerge the spinach leaves in the water and boil for 30 seconds.
---
Step 3
Remove the spinach from the pot and cool under running water. When the spinach has cooled, squeeze out the water well.
---
Step 4
Cut the spinach into 1.6-inch (4cm) pieces.
---
Step 5
Mix A (dashi, mirin, soy sauce) in a bowl.
---
Step 6
Serve the spinach in a bowl, pour the seasoning liquid in the bowl, and sprinkle with shaved bonito flakes.
---
To Store
You can store it in the refrigerator for up to 2 days.
Recipe Card